ASTM A536 60-42-10 Ductile Cast Iron
ASTM A536 60-42-10 Ductile Cast Iron
ASTM A536 60-42-10 is a special grade of ductile iron according to the American standard.
This grade is equivalent to ISO 450-10, China QT450-10, Germany EN-GJS-450-10, UK 420/12, Italy GS400-12.
The yield strength of ductile cast iron 70-50-05 is no less than 290MPa, the tensile strength is no less than 415MPa, and the elongation (L0=50mm tensile test bar) is no less than 10%.
This grade of ductile iron is suitable for special applications, such as pipes, fittings etc. In practice, Grade 80-55-06 is better than this grade. Therefore, many clients will use 65-42-12 ductile cast iron instead.
This material grade has middle tensile strength, but the elongation is high. That means it is strong and ductile enough. Therefore, unless you have special reasons, otherwise, the equal grade 65-42-12 may be a better choice.
In standard ASTM A536, there is no requirement to the chemical composition. That means the iron foundry could adjust the chemical composition according to their experience. However, the mechanical properties are the necessary requirement.
You can find the mechanical requirement to ASTM A536 60-42-10 in the chart below: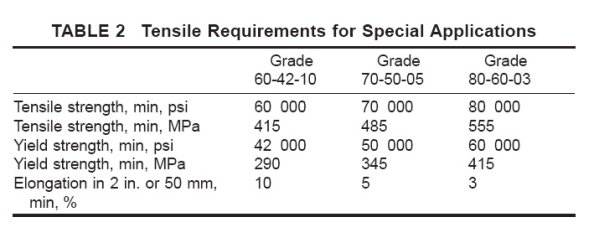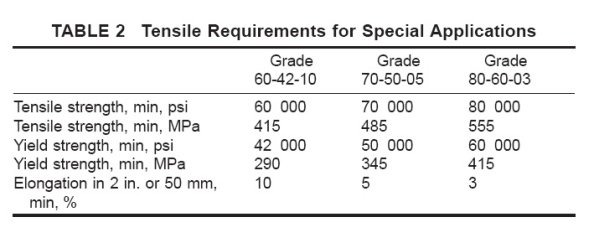 https://www.yidecasting.com/wp-content/uploads/2020/07/damping-block-1.png
400
495
Yide Casting
http://www.yidecasting.com/wp-content/uploads/2020/05/YiDe-iron-casting-manufacturer-logo-300x137.png
Yide Casting
2021-03-05 08:31:59
2023-06-16 02:57:34
ASTM A536 60-42-10 Ductile Cast Iron