ASTM A48 Standard for Gray Iron Castings
ASTM A48 / A48M Standard Specification for Gray Iron Castings manufacturer, grades including Class No. 20, 25, 30, 35, 40, 45, 50, 55, 60.
Class No. 20 A, 20 B, 20 C, 20 S,
Class No. 25 A, 25 B, 25 C, 25 S,
Class No. 30 A, 30 B, 30 C, 30 S,
Class No. 35 A, 35 B, 35 C, 35 S,
Class No. 40 A, 40 B, 40 C, 40 S,
Class No. 45 A, 45 B, 45 C, 45 S,
Class No. 50 A, 50 B, 50 C, 50 S,
Class No. 55 A, 55 B, 55 C, 55 S,
Class No. 60 A, 60 B, 60 C, 60 S.
This specification covers general engineering gray iron castings mainly used for tensile strength. The castings are classified according to the tensile strength of the cast iron in the individually cast test rods.
1. Requirements for Tensile Strength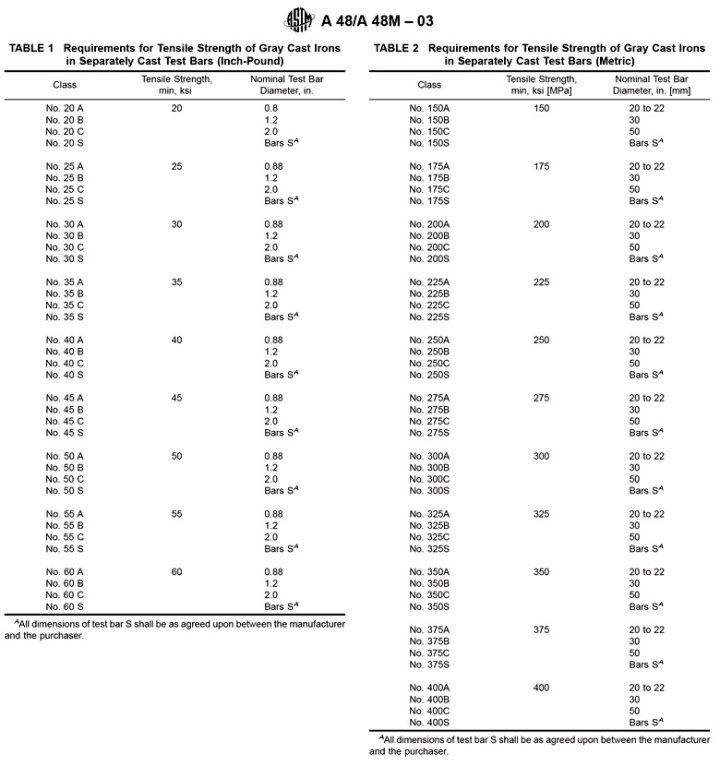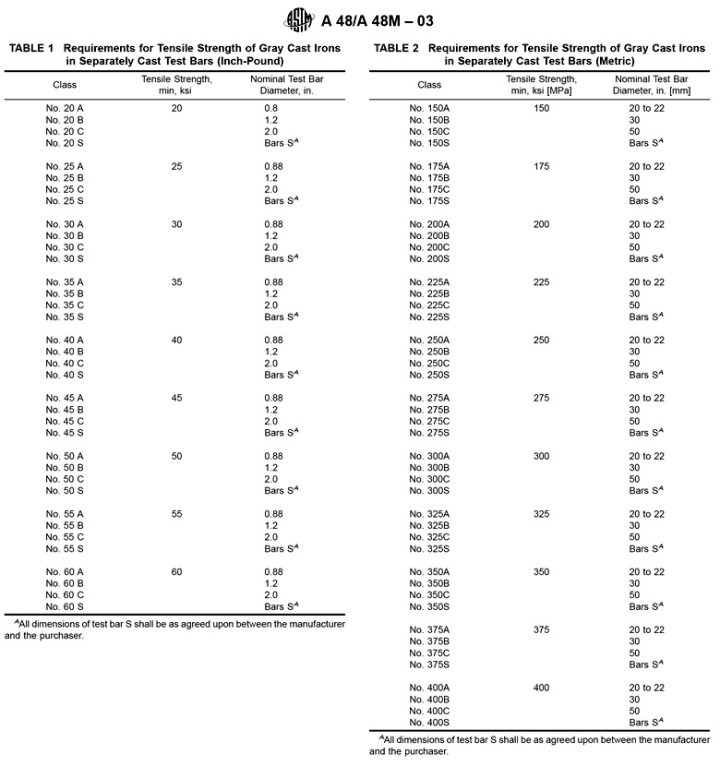 On the above chart, you can see that each material grade requires its minimum value of tensile strength, ksi. That means the tensile strength is the most important specification for gray iron castings.
However, there is no need to write A, B, C, S material grades for the foundry. Because A, B, C, and S are only requirements for test bar.
For example, for a cast iron plant, ASTM A48 Class 20 will be sufficiently detailed, which means the minimum value. The tensile strength of gray cast iron must be higher than 20 ksi (138 Mpa).
ASTM A48 Class 20: Min. Tensile Strength 20 ksi (138 Mpa)
ASTM A48 Class 25: Min. Tensile Strength 25 ksi (172 Mpa)
ASTM A48 Class 30: Min. Tensile Strength 30 ksi (207 Mpa)
ASTM A48 Class 35: Min. Tensile Strength 35 ksi (241 Mpa)
ASTM A48 Class 40: Min. Tensile Strength 40 ksi (276 Mpa)
ASTM A48 Class 45: Min. Tensile Strength 45 ksi (310 Mpa)
ASTM A48 Class 50: Min. Tensile Strength 50 ksi (345 Mpa)
ASTM A48 Class 55: Min. Tensile Strength 55 ksi (379 Mpa)
ASTM A48 Class 60: Min. Tensile Strength 60 ksi (414 Mpa)
If you want to know the equivalent grades of other standards, please refer to the equivalent grades of gray iron and ductile iron.
2. Dimension Requirements
The castings should conform to the dimensions or drawings provided by the purchaser. If there is no drawing, it shall conform to the predicted size of the pattern equipment provided by the purchaser.
Usually, the buyer should provide 3D drawings and 2D drawings. 3D engineering drawings will make patterns more accurately. The 2D engineering drawing will provide detailed dimensional tolerances and processing requirements. Therefore, this will avoid confusion and misunderstanding, and drawings are the only standard for dimensions.
If the purchaser does not have a drawing, he should provide an original sample. Our Yide Casting can scan samples into 3D engineering drawings, so the size of the samples will become the standard. The problem is that the casting foundry should ask the buyer for the tolerance of the key dimensions, because the sample cannot show the tolerance range in the drawing.
3. Quality and Defects Requirements
There should be no visible sand, scale, cracks and thermal cracks on the surface of the casting.
Unless the purchaser's written permission is obtained, repairs shall not be carried out by any form of splicing or welding.
Generally, the foundry should have enough experience to deal with defects. However, when there is a defect, the foundry should discuss with the purchaser to confirm whether leak plugging and welding can be carried out.
For metal castings, defects on the surface and internal areas are inevitable, so it is essential for the foundry to conduct good quality inspections and communicate with customers in a timely manner. If you want to know the appearance of casting defects, please refer to Yide Casting's article: Photos of casting defects.
4. Cast Test Rods
The test rod should be an independent casting of the same batch as the representative casting, and have the dimensions shown in Table 4. You can leave a margin for a reasonable template draft within the tolerance range shown in Table 4. Test rods A, B and C are all standard test rods in the form of simple cylinders. The test rod S is special and is intended to be used where the standard rod is not satisfactory.

5. Special Requirements
If a written agreement is reached between the manufacturer and the purchaser, the casting may have to meet special requirements regarding hardness, chemical composition, microstructure, pressure tightness, radiographic robustness, size, surface finish, etc.
This means that buyers may ask for more if necessary. ASTM A48 is only the standard for the main mechanical properties of gray cast iron. If the buyer has the above-mentioned special requirements, he should inform the manufacturer at the beginning.
6. Mechanical Properties of Gray Iron Castings
Grade 20, 25, 30 and 35 gray cast irons have excellent machinability, high damping capacity, low modulus of elasticity and relatively easy manufacturing.
Grade 40, 45, 50, 55, and 60 gray cast irons are generally more difficult to machine, have lower damping capacity, higher modulus of elasticity, and are more difficult to manufacture.
Higher grade means higher tensile strength, higher hardness, higher price and difficulty of production, so you must know which material grade is suitable or sufficient for your project without having to pursue the highest grade.
7. How To Order Grey Iron Casting Parts Follow ASTM A48 Standard
A. Firstly, you should choose a reliable casting manufacturer with rich casting experience.
Yide casting is a leading casting foundry in China, specializing in iron casting and machining, and can meet kinds of requirements for your casting products.  As a leading iron casting factory in China, Yide Casting exits over 30 years and always work in the casting industry, and manufacturing iron cast forklift parts support seats, and fork truck pumps over, auto parts, valves, oil pumps products, exports to Europe, USA, Korea, Turkey, Japan, Germany, Australia, India, etc,  we supply the casting iron parts for some truck manufacturers, car parts manufacturers, and other water pipe manufacturer factory worldwide, and get good feedback and more repeated orders from our old customers.
B. Send Cast Drawing File to Check Casting Ways and Details
Why need to check casting ways?
As you know, the casting iron product is not only a metal shape the same as the drawing, it also has its duty to help the car driving, truck usage, water pipe project, and air conditioner to achieve the final effect as the customer want. Only in this way, the iron casting products are useful casting parts, good gray iron casting parts, and ductile iron casting parts.
If everything goes well, you need to check casting ways with the casting manufacturer and tell them the final applications.
According to their details file for these casting parts, we always check every detail with our customers and also give a professional solution to improve the file.
C. Get A Casting Sample From Casting Factory
After everything is checked, Yide Casting will follow the file details to produce the casting parts and leaves one casting product in our product room for the following business and quality tracking. We always try our best to give the best casting items to our customers.  Then ship the casting sample to our customers for quality checking, matching with the final application.
This step is very important for both casting manufacturer, supplier and casting product buyer.
D. Make a big order
If everything goes well, you can check the order with casting supplier now, for the delivery time, and shipment ways, payment ways etc.
Anyway, if you have any other questions about iron casting parts, you come to the right place, please feel free to contact us for more details.
You May be Interested In Casting Service